We lived in Kansas during my gradeschool years and I could never figure out the difference between "an early spring" and "six more weeks of winter" because six weeks from February second would be... mid March? Pretty early for winter to be all done back in Kansas. Even in California. Heck, the sunset season opener usually isn't until April and is often a bit chilly.

The weather people are predicting no rain for awhile after this weekend. It's going to be a few more weeks before I'm personally done hibernating due to a number of internal and external factors, but it's going to be a glorious spring. I can feel it.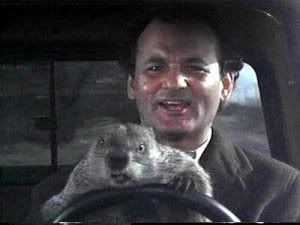 Did the groundhog see his shadow?
Yes - six more weeks of winter.
No - it's going to be an early spring!
Why are there never any female groundhogs, hunh?
Hush. I live in Australia. I am not thinking about when summer will end!